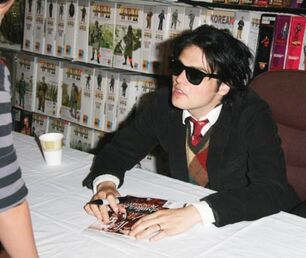 Gerard Way is an American writer and musician. He was lead singer in the and My Chemical Romance, and has written comics such as Umbrella Academy and True Lives of  the Fabulous Killjoys.
Early Life
Edit
Gerarde Way was born on April 7, 1977 in Summit, New Jersey. He originally wanted to be a guitarist but was discouraged by his lack of talent and turned to a career in art instead.
My Chemical Romance
Edit
He eventually returned to music forming the band My Chemical Romance. They preformed from 2001-2013 when they broke up. Way used songwriting as his outlet to deal with stress in his life.
Writing Career
Edit
Way had been writing since he was a child and released the first Volume of the Umbrella Academy: Apocalypse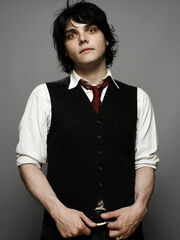 Suite on May 5th 2007, and Dallas on November 6th 2008. He latter released the miniseries True Lives of the  Fabulous Killjoys (based on My Chemical Romances album "Danger Days: True Lives of the Fabulous Killjoys") on June 12th 2013. 
Solo Career
Edit
After My Chemical Romance broke up in 2013 Gerard decided start a solo career, and stated that after the Killjoys series was done he would take a break from writing to focus on his music. He postponed the third volume of the Umbrella Academy: Hotel Oblivion, saying he would return to writing comic books "When the time was right."
Personal Life
Edit
Gerard Way Married singer Lin-Z on September 7th, 2007. He has struggled with depression, alchoholism, and perscription pill addiction, but has since regained sobriety and has "become a happier person"
http://newageamazon.buzznet.com/user/journal/3308181/
http://en.wikipedia.org/wiki/Gerard_Way#cite_note-3
http://masterofthewicked.fanfusion.org/masterofthewickedgallery/albums/userpics/02~137.jpg
Ad blocker interference detected!
Wikia is a free-to-use site that makes money from advertising. We have a modified experience for viewers using ad blockers

Wikia is not accessible if you've made further modifications. Remove the custom ad blocker rule(s) and the page will load as expected.