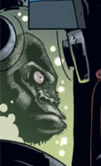 A Martian Ape is a species that appears in the Umbrella Academy series.
Not much is known of Martian Apes, except that they live on Mars. When Spaceboy was in a horrible accident on his trip to Mars, The Monocle preformed an experimental surgery placing his head on a Martian Ape's body. The Monocle kept the head in his laboratory.
Abilities
Edit
Martian Apes are incredibly strong and have a high invulnerability.