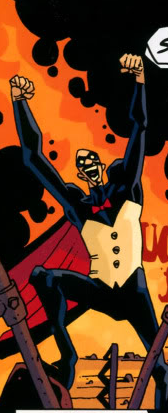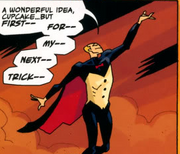 The Murder Magician was a villain that the Umbrella Academy faced in an early adventure. He appeared in the short story "...But the Past Ain't Through With You"
The Murder Magician and his sidekick "The Assistant" were criminals with the intent of becoming famous by going on homicidal rampages. Their first known victim was the duplicate 00.03 The Rumor, who they encountered in an alley (after being tipped off by The Monocle) and sawed in half.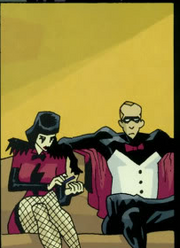 For this he won the Oppenheimer Prize for Villainy at the Annual Summit of Dastardly Deeds, along with a substantial cash prize that went along with it. Using the money he received, he went on The Lucifer Clark Show to brag of his accomplishments, and unveil his latest carnage causing creation, "The Murderbot." He unleashes the Murderbot on the studio while he and The Assistant attempt to add the show's host Mr. Clark to their list of victims. They were stopped by the arrival of the Umbrella Academy where The Murder Magician was rendered unconscious by a punch from 00.02 The Kraken. He was presumably apprehended. He has not been seen since.
Abilities
Edit
The Murder Magician is a skilled engineer having created the Murderbot. He was able to also hypnotize the entire audience of The Lucifer Clark Show. He also seems quite good at sawing people in half.
Appearances
Edit
Apocalypse Suite:
"...But the Past Ain't Through With You"
http://www.mixedmartialarts.com/mma.cfm?go=forum.posts
http://www.mixedmartialarts.com/mma.cfm?go=forum.posts&thread=2101701&forum=170&page=1&pc=2
Ad blocker interference detected!
Wikia is a free-to-use site that makes money from advertising. We have a modified experience for viewers using ad blockers

Wikia is not accessible if you've made further modifications. Remove the custom ad blocker rule(s) and the page will load as expected.